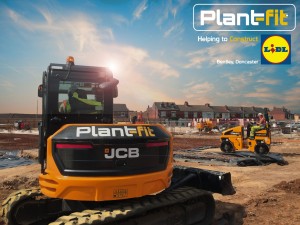 Plant-Fit Ltd are helping to construct the new Lidl site which is located in Bentley, Doncaster.
The new supermarket, will not only provide many new Jobs for residents, but also will make a supermarket more easily accessible to all the residents located within the centre of Bentley. Lidl will also be a close competitor to the Morrisons Supermarket on York Road, and also to the Tesco Express on Bentley Road.
FoxWood, the company responsible for the site, hired a 8T 360 Excavator and a Roller from us to help level out the terrain and construct the foundations of the site.
To view our big range of machines, view the plant hire / services section of the website, or ring us on our number to get a quote!